Zoe - New Champion League of Legends
News
1745
December 29th, 2017
/
/
/

New Champion Zoe heading to League of Legends

League of Legends has recently introduced a new champion which brings some peculiar spirit into the game. Best Zoe players admit that to play her is much fun and they are not necessarily females. This is interesting for male players too. Zoe is rather a kid than a female whose childishness and carelessness have survived since the dawn of times. Yet we should not forget that this character has acquired powerful mana skills as well. However, we never know what is on her mind right now. Is she a tricky female or a playful child at the moment? Are you up to the challenge to control her? Play and see how it can be when stars and bubbles enchant your enemies to death while they are misled by the fragile girl.
Zoe is the latest – New Champion heading to League of Legends
Zoe is a new female personage in League of Legends which rapidly gains her popularity both for her appealing and cute appearance and her skills. She looks like a childish fairy who does not want to grow up, according to her own words. Her blue garments match her red hair and light eyes which have a special sparkle as if planning something. Yet, this character is an ancient creature, the Aspect of Twilight. With all her playfulness, one should not underestimate the power of her magic and the constant desire to play tricks on others when they expect that least. With the purpose of entertainment, Zoe may have another goal at the same time. Who actually knows though, maybe not. So Zoe is like that: playful, cute, tricky, innocent looking yet possessing a great power of ancient magic accumulating the wisdom of centuries.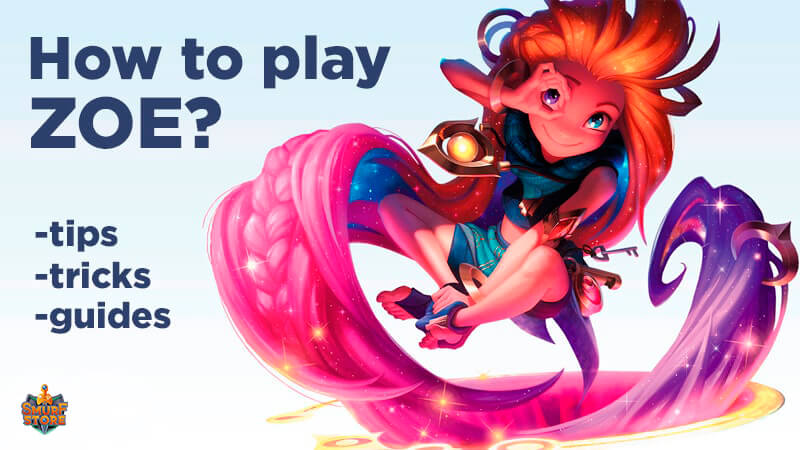 What do you acquire playing as Zoe?
The thing about Zoe is her arsenal of tricks and spells which may seem funny and weak at first. Yet, as the game proves, it should not be left totally for kids. Grown-ups can play them too peeping into their childhood for a while. So what best Zoe-new champions may have at their disposal?
Sparkles and flashes with bonus magic in the following attacks
Bubbles – and the notorious Trouble Bubble in particular
Stars – Paddle Star is strong enough to make a profound damage especially when it is flown straight
Balls which may startle the enemies in the least expected moments
The ability to Portal Jump – when you can find yourself in unexpected places and also return back when it is safe enough
Spell Thief enables Zoe to grasp the magic of their enemies and own it. Thus, they have to think thoroughly about their tactics. Otherwise, for example, their flash may become yours quite easily with Zoe's assistance.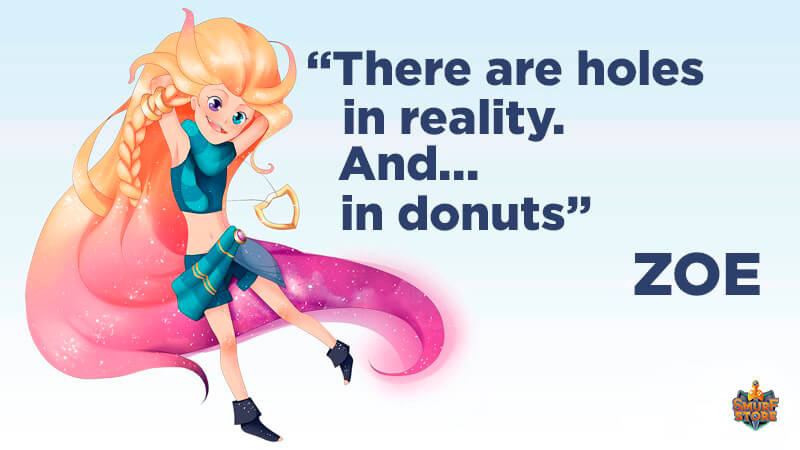 How to play best Zoe: tips, tricks, and guides
Even Zoe is a kiddish personage and her weapons may seem plain enough, this impression is quite misleading. To play her is not as simple as it may seem at first sight. Zoe is an old mage first of all, not an eternal child who does not want to adult and is kidding everyone around. We should never forget that mages are wise and their spells are perfect. Zoe is not an exception in this regard. She is considered to be a rather high skilled champion, so good Zoe players would spend quite a lot of time practicing and refining their skills. They say, with right combos, even one attempt is enough to battle your opponent. Not every girl can do that but Zoe can!
Fortunately, experienced players share their knowledge with others who are eager to accomplish their gaming.
Cast a sleepy trouble bubble in a close fight – and you will have quite a good chance to deprive your enemy at least 80% of life or can be lethal rather often. You can spell it at a distance, too and enchant your enemies even if they are not in a close proximity, with less effect though
She has a huge mobility. Utilizing Flash, you increase her chasing or escaping ability
Her spells are strong and rather long-lasting. You may use Ignite spell to make the damage as strong as possible
Zoe can collect spell shards to use them later
With Manaflow Band she won't suffer from mana powers
Arcane Comet and Summon Aery ensure a profound damage
Scorch may increase the impact, too
Gathering Storm is an instance when she can become frightening.
Best Zoe players manage to combine various spells for a better effect. Thus, mastering Portal Jump you can penetrate into places in a way not available for others and retire instantly as well to escape danger while others are hardly able to realize what has happened. Besides, Portal Jump can enhance spells. For example, Paddle Star is the stronger the farther it reaches. So when you throw it and go back with Portal Jump simultaneously, you will get the best result. Try to invent something yourself as well – creativity is always welcome.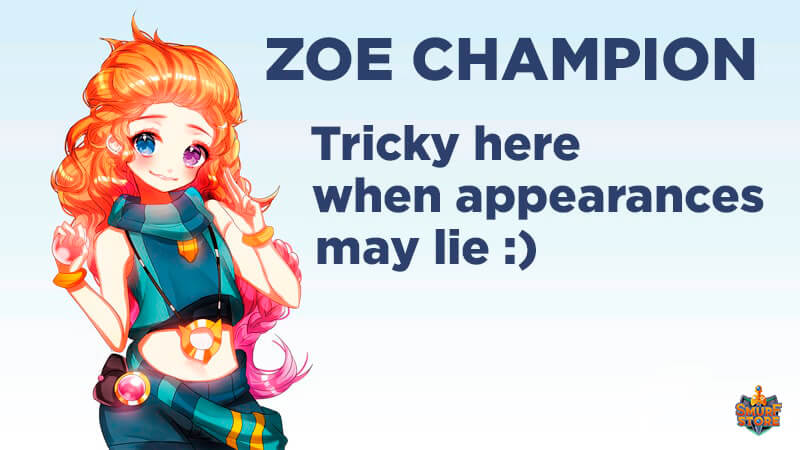 Zoe champion – a tricky hero when appearances may lie
So now you can see that Zoe's tricks are not for children at all! Obviously, it will be reasonable to practice her in simpler levels to make her more experienced in her tricks – or rather for you to control her better – and then go up to the next level. She is good at pokes and bursts and can fool your enemies around easily. Her spells are for those who do not like cold weapons. Yet, the game shows that even bubbles can be harmful. With no blood involved, enemies may die. This is the case when wit and cunning are stronger than the physical power. Even a tiny creature may be dangerous if she knows magic. Try, Zoe is so fun to play – sentimental, soft and exciting at the same time! She brings some peculiar spirit to the game, light and powerful at the same time. Educate yourself: read tips, view video guides to gain necessary experience, try to invent something yourself! Our team wishes you to enjoy the game and is always glad to offer something to make playing exciting. So, stay tuned and try not to miss a thing!