How to record league of legends game
Guides
2434
November 3rd, 2018
/
/
/

Game Software for recording LoL game

League of Legends is a worldwide game, which surprises its players each year with new improvements. This game consists of several seasons, pre-seasons, which are awaited by millions of people. All gamers are inspired by the possibility to compete with people from different parts of the world. They discover the new world which brings them happiness.
Some of beginners have difficulties, but during the exact period of time they become more experienced and skilled, they start fighting with gamers who are stronger, and sometimes can even win. This victory motivates them to play more. The advantage of this game is an opportunity to make friends with whom you will have a lot of in common. You don't need to meet this person, during the battle you become true friends, and such a friendship is a good reason to start playing and record League of Legends.
It's absolutely normal to have a desire to record LOL games. There are some reasons why you would like to record LOL gameplay:
An opportunity to show your friends how you are skilled and what you've reached. This way you also watch these battles and can be proud of you. You can even create your own channel on Youtube and become popular among the gamers.
A gamer can watch the battles and get where his fails were and how he can improve his skills. Such a way of studying is becoming popular among beginners who want to become experienced. They can watch their battles attentively.
Anyway, each player wouldn't refuse from the possibility to come to that world again. He could live those emotions and be more attentive to the details. And if a player doesn't record their games, it's only because of not knowing how to record league of legends.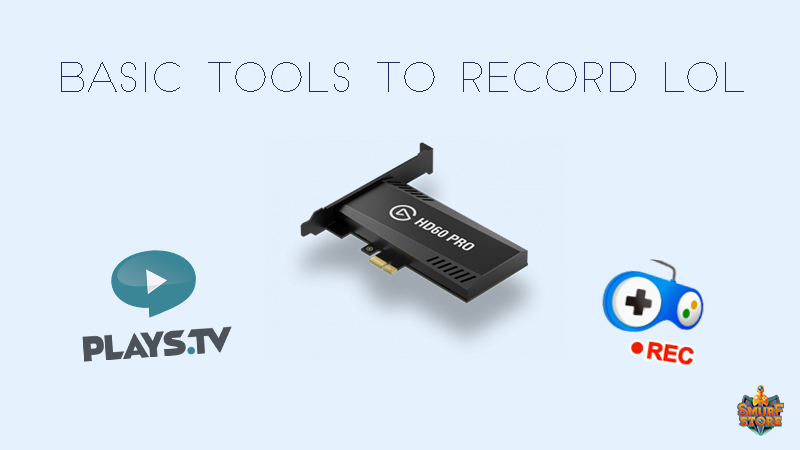 What are the Basic and Optimal Tools to Record LoL
There are solutions for recording LOL and the best way to record LoL is installing the exact recording software:
Plays.tv is considered to be one of the best game recording software. You start recording automatically after beginning the game. The most important things, such as web-camera, microphone, mouse clicks - all of them are saved without any damage. If you use plays.tv, you are able to watch all the events and mark each key period and you can share each important moment on social networks with your friends.
There is a possibility to record League of Legends with game recorder named Loilo. This recording software saves the quality of the video and normal size. It's easy in using. A player just need to choose the game that should be recorded and click the record button. There is no limitation in recording the game. Many gamers prefer such a way of recording and are satisfied with it.

Record League of Legends using a capture card. Capture cards are able to record your gameplay and give you a splendid opportunity to show the whole world your battles. There is Elgato Game Capture HD. Its feature is a possibility to show all the details. You should remember, there are limited tools, which can be helpful in editing the video. Record your LoL game and watch your best battles.

Record League of Legends with Replay Function. After starting the 7th season of League of Legends, gamers began using a new feature, the replay function. You can be curious how to record lol game, having such an update. It's pretty easy. First of all, you should download your replay from the Match History. With help of a new replay mode, each gamer is able to watch the replays. If you need to find the exact moment of your battle, you can use annotated timeline. Learning how to record League of Legends games is commendable for all gamers.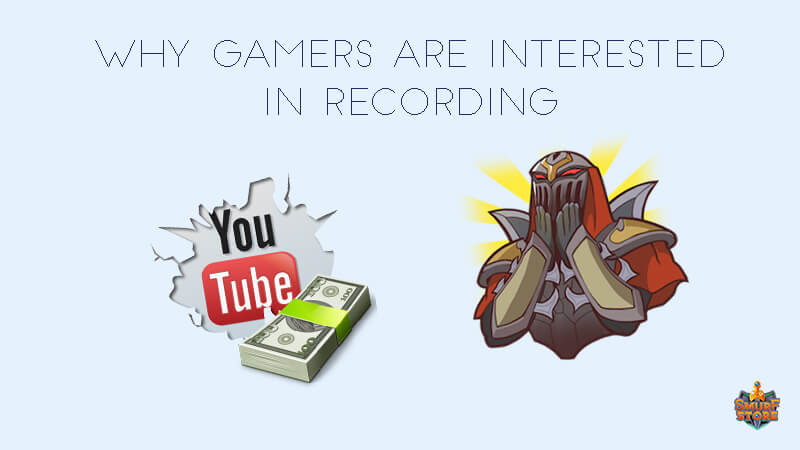 Why Gamers are Interested in Recording League of Legends Games
Some of gamers dream about LoL recording software to be able to estimate their battles. This way they can avoid repeating their common mistakes and they will not have so many fails as they had earlier. It's really helpful for the beginners to be able to watch the match they had. Sometimes it's even interesting, and gamers can watch it as a movie. LoL gamers can discuss their tactics and this way spend time with fun. Such an entertainment can make people closer, if they arrange an appointment and together watch their battles. They can discuss the ways of winning the opponent, and they will get a victory without any doubts.
More experienced gamers are interested in sharing the recorded LoL gameplay on a social network. This way they can develop their Youtube channels and show the beginners how to play well. League of legends recording software is a necessary tool for their work. Sometimes these players want to teach young generation of gamers. They can show some tips and details, that become clear only after some battles. Beginners will need just to watch a couple of videos and they can try to use these tips at their battles.
Some of the experienced gamers are interested in earning the money. They try to increase the number of followers and become a popular gamer. Anyway, it's a great opportunity not only to develop as a gamer, but as a blogger too. People who have special LoL channels can really help a lot of gamers. They spend a lot of time playing and trying to show the battle bright and interesting. It's a kind of a show, and they want to be paid for this.
League of Legends is so popular because of dynamic and bright graphics and different challenges. You as a gamer, become a part of one big team, where each of you has an exact role and character, called a champion, who in his turn has the list of duties and responsibilities. You can be a jungler, and one of his duties is giving his team the extra gold. You can be a tank, this kind of characters should start fighting. Supports have to protect exact kinds of champions. There are many champions, and it's difficult to say who is the most important.
It's a team play, and your victory depends on how well you will communicate with your teammates and how all of you understood your roles, duties, actions. If you play as a team, you have good chances to become champions of all the battles. Of course, each gamer should study how to play in a team and how to fight great.
Actually, if a gamer is able to record League of Legends games, that means he is going to improve his skills and understand all his mistakes.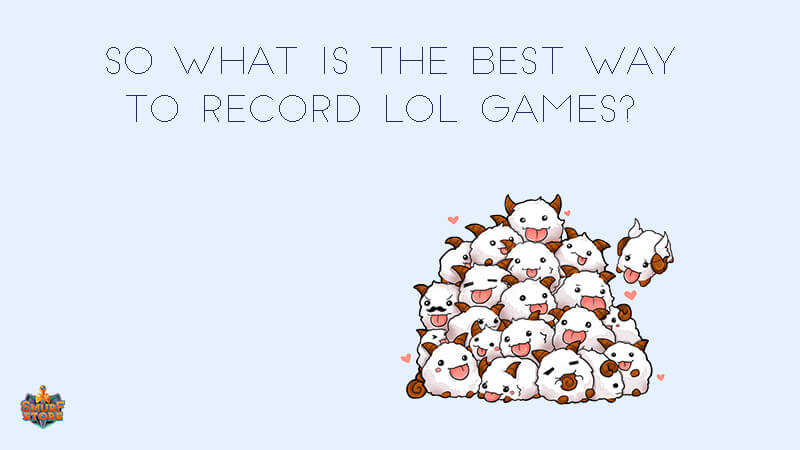 What is the Best Way to Record Lol Games
There are many opinions among the gamers, and different gamers prefer different ways of recording their battles. There is no exact best game recording software and it's normal to have a choice and use the exact software. It's more important to understand that recording your battle will bring you only the good experience. The best way to record League of Legends is to find out which software is more convenient and suitable for you.
You can watch how the other gamers play and what is a difference between your tactics and others'. Gamers admit that with the help of recording they started to get more satisfactory from the game. And if earlier, gamers didn't know how to record their battles, currently it's all clear, and each gamer can do it.